If you haven't heard, I left my job at Dropbox at the end of April! In my 7+ years there, I got to work on Dropbox Business, Dropbox Photos, desktop syncing, the mobile app, and so many more things. I was a Quality Engineer and a QA Manager, and I learned so much about risk, leadership, and brutally prioritizing quality efforts. I got to collaborate with more lovely, thoughtful, humble people than I can count. I'm grateful for all I learned, for everyone who mentored me, and for everyone I collaborated with. We did great things together.
I left because of burnout, and I'm focusing on resting and recovering for a while before I start putting energy into what's next. You won't be surprised that, in the meantime, I've been spending time on a wide variety of things… (because I still have more interests than hours in the day :).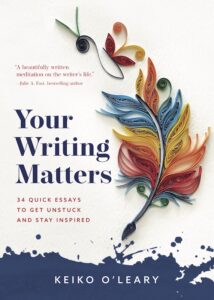 I'm reading a ton. Lots of queer romance, because they make really lovely rest-your-brain books, some books about feminist Judaism, because I don't have as much connection to my heritage as I'd like, and of course I've spent a lot of time reading (and re-reading) the book I'm publishing: Your Writing Matters: 34 Quick Essays to Get Unstuck and Stay Inspired, by creativity expert (and dear friend) Keiko O'Leary. You'll be hearing a lot more from me about it, it's available for preorder now and is coming out on August 9!
I'm moving my body a lot. (I don't really like saying "exercise", because that makes it sound harder than it is.) Daily walks around the neighborhood and weekly longer hikes up and down the San Francisco Peninsula. I actually just live in paradise, and I'm finally making time to visit all the gorgeous parks throughout the Santa Cruz Mountains. I also have a new Hatha yoga class that's a three minute drive from my home that's in the middle of nowhere, with a lovely instructor. I'm working to build up my stamina and strength for longer 10+ mile hikes again.
I'm making the most of my unstructured schedule to re-learn how to prioritize my day around what interests me and what my body needs and what interests me, instead of relying on dates and obligations and other people's schedules. It's been hard not to just create my own obligations and schedules, but I'm trying to unlearn the idea that my value comes from productivity, and instead focusing on the value of admiring nature, petting the cat, and truly resting. And, when I'm inspired, creating something!
On the creating front, I've been knitting up a storm. I'm in the middle of two shawls now, and I just finished a beaded rainbow gradient shawl. It's ridiculously gorgeous.
I'm also writing more (… this very blog post, for example!), and I'm starting to remember that when I have the thought, "I should write about X!" I actually have time to write about it right now, and whatever I was going to do next can probably wait.
I went on retreat at the end of June, as I do a couple of times each year. I got to spend time with my soul and with dear friends who are also on the path of self-knowledge and healing. (If you're interested in a 10.5 day retreat next March, I'd love to talk to you about the Heart Conference!)
So stay tuned for more about what I'm publishing (and I may put out a call for submissions…), what I think about quality, and whatever else is top of mind.
And, to all my past coworkers: I miss you and I'd love to hear how you're doing. Seriously, let's chat.